Chat
An unique solution for indicating live presence on your webpage, and smoothly converting online self-service processes into chats whenever relevant for the visitors!
Creating a truly live assistance website, brings unique opportunities to meet customer expectations and surpass your competitors' abilities:
VISIBLE AND ALWAYS UP-TO-DATE PRESENCE INFORMATION for visitors
ONE CLICK TO CONNECT
the best possible queue-experience, whenever your visitors have to «wait in line»
providing UNIQUE AGENT WORKFLOW SUPPORT, including STRONG COOPERATION TOOLS while chatting
providing post-session documentation for both parties
Excellent communication channel for securing e-purchasing processes, direct response from digital marketing, customer-treatment, webstudies, counseling-and information services.
Simply indispenseable for those who want effective customer service, increased sales and better reputation.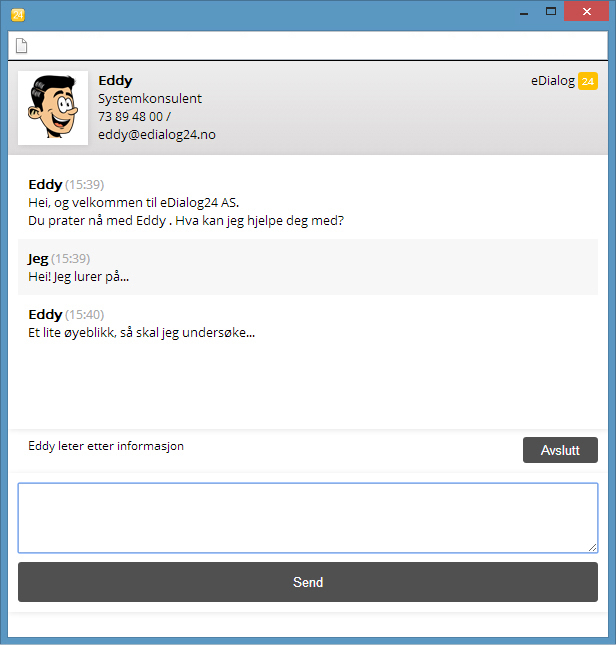 Some important focus-areas:
«Traditional web» vs. mobile surfaces.
Costumer promise.
Staffing, routing, deadlines and escalation.
Workflow before, under and after dialog.
Instant Follow-up.
Steering, statistics og planning.
Change of channel, chat for e-mail, chat for telephones, chat for SMS.
Aligning with phoneques or our own chat-line?
Saving and interaction with CRM.
It is increadibly easy to start chatting.
Your business can start with eDialog24 FREE without costs, or consider more modules / bigger reach with eDialog24 PRO.